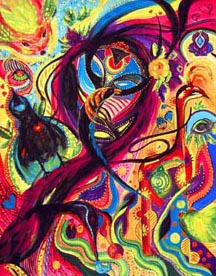 An Intuitive Painting Workshop

Are you ready for a new adventure?
Free your creative spirit and discover the authentic artist within you!
Absolutely NO prior painting experience is necessary or preferable!!
You're free!!
Saturday/Sunday, January 19 & 20
Saratoga Arts, 340 Broadway, Saratoga Springs, NY 12866
From 10am - 4pm
Student's Comments: "Painting from the Zone was truly a rewarding experience. It was freeing and empowering at the same time.I felt so safe being in a space where there was no judgement placed on me or my creativeness. Marina is a wonderful facilitator and I am thankful that I was able to participate in this workshop." -Wauneata Waller

"I write and have no aspirations to paint. But Marina's Intuitive Painting workshop introduced me to the experience of accessing my intuition and expressing it effortlessly. Since taking the workshop, I've been sitting down to write with something like the attitude of a two-year old making mud pies. It's more fun, I'm more productive and am even liking the results.'
Anne Flournoy
Filmmaker
Painting From "The Zone"
- Two Day Weekend Workshop
Saturday & Sunday, January 19 & 20
My most exhilarating life experiences have been discovering the range of creativity I didn't know existed within me. Painting from "The Zone" is one of them. It's also how I discovered my psychic/intuitive gift which I elaborate on in my Intuition Development Workshops.


Painting From "The Zone" -- Day One

SATURDAY, January 19, 2019 from 10 am - 4 pm
For those who have never picked up a paint brush and for experienced artists in all venues. Absolutely no painting, artistic experience, or talent required to attend these powerful, transformational, and fun workshops... so...put your self consciousness aside and take the leap into new territory you haven't traveled before.
You are all artists. There is a true and genuine artist within you longing to be set free. This workshop is not about painting pretty pictures or learning a technique. It's not even about painting something recognizable. It is about connecting with your essence and experiencing the joy of discovering and freeing your creative spirit. When you are creating, you are connected to "The Creator" of all things..."The Source." The same energy that initiates and sustains all life flows through you very intensely in the act of creation. It is a healing experience.

As you all well know by now, life is full of surprises. You never know what you will discover here!
Paint Your Angel and Spiritual Guide -- Day Two
SUNDAY, January 20, 2019 from 10 am - 4 pm
I will guide you to Paint Your Angel and Spiritual Guide or simply continue as you did in Day One...your choice on the second day.
Note: Day Two is only open to those who have taken Day One or anyone who has taken an intuitive painting workshop with me in the past.
Pay online securely right here with PayPal for Painting From "The Zone" full weekend or one day.
Please bring the following materials:
Ice cube tray to hold paint.
Plastic or glass jar to hold water for rinsing your brushes.

I will provide the paper, paint and some brushes....

If you are already a painter, bring a few large and small brushes you favor, including a liner brush...and one or two you don't favor.
Credit Card Payments by phone --- Call Marina at 518-583-7280
Call MARINA at 518-583-7280 or
email her for more information.
That's it folks...hope to see you there!
Please register early to insure your space.