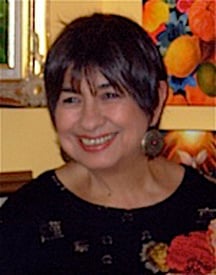 ☀️ The Intuition Workout Workshop☀️
Intuitive/Psychic Services, Contemporary, Visionary and Healing Art
☀️ Renew your spirit with my paintings.
☀️ Receive clarity, insight, guidance and healing in a private Intuitive Session.
☀️Develop your intuitive gifts and enrich your life beyond what you thought was possible!
As an intuitive counselor, artist and teacher for over 40 years, I move through life in a heightened state of consciousness and employ my intuitive vision and artistic gifts to enrich the lives of others. Over the years and primarily by word-of-mouth, I have developed an extensive national and international clientele. My original paintings and prints are in private collections worldwide.
☀️ Client's & Collectors Comments ☀️

"Some people turn to therapists or drugs. I've turned to Marina for over 30 years. Her creative talents adorn my walls. Her words, her visions, her messages and her deep knowing has been an infallible source of wisdom over the years and I truly wonder where I'd be without it."
Janet Perini, NY
"I have been a client of Marina Petro's for intuitive guidance for over thirty years. Marina is not only gifted and insightful but is able to package the information presented in a way that it is useful to the recipient to move forward, to recognize the unfoldment of opportunities and to work through challenges. The intuitive guidance may also save, months , days and years from barking up the wrong tree. Marina's guidance goes to the deeper longings of the client, I often think of her as a reader of ones soul-...bottom line... highly recommended."
Kenneth N., Florida

"My initial meeting with Marina was in 1990 when I received an intuitive reading which proved to be highly accurate and insightful. The knowledge and spiritual guidance obtained at that time and subsequent readings have helped me beyond measure. Her workshops are well organized, reasonably priced and present the opportunity for the students to access their intuitive nature in a highly supportive environment. As a visionary artist, her work transports the viewer to a place that connects on a soul level. I feel so honored to have her work "Spirit Rising" on the cover of my CD "Soul Songs". Marina has been an important part of my spiritual journey over the past 20 years and I am so grateful for all that she gives and all that she is."

Linda Thompson, NY


"Marina has become a confidante, a person I have relied upon for more than 35 years. I have taken advantage of almost every service Marina has offered and she has never, ever let me down. I incorporate her thoughts and recommendations into everything I do every day of my life. What more can be said? Can you think of ANYONE in your life you could say that about and mean it? Marina is my strength and my wisdom - I wish others could benefit as I have..."
Janice Maguire, MBA-Albany, NY
Many times I think of the first intuitive class I took with you and how it opened my world to infinite possibilities. I was and am still so grateful for your class and each contact with you
Christine D, NY
"Undoubtedly a very fine, accomplished and award-winning artist. Marina's ability to access the absolute truth of a person and in any situation is unfailing and astounding. Her ability to expertly guide other human beings is unrivaled."
Barbara A, NY




The entire content of this website is copyrighted and may not be reproduced in any manner without permission of Marina Petro.
art, original art, contemporary art, paintings, original oil paintings, oil paintings, acrylic paintings, fine art, abstract art, abstract, angel art, angel paintings, angel art prints, angel posters, guardian angel prints, guardian angel paintings, clairvoyant, psychic, art galleries, blog, a painting a day, daily painting, daily painters, saratoga springs, ny, arts district saratoga springs, ny, saratoga springs psychic, saratoga springs artist, latham, ny psychic, albany, ny psychic, clifton park, ny psychic, psychic readings, psychic readings saratoga springs, ny, psychic readings albany ny, psychic readings clifton park, ny, psychic readings latham, ny, psychic readings glens falls, ny, horse pictures, horse paintings, horse portraits, equine portraits, horses, equine paintings, equine oil paintings, horse art, phoenix rising, phoenix, firebird, healing art,angel, angel art, angel pictures, angel wings, angels, angel book, landscape, angel necklace, angel jewelry, landscape paintings, healing art, healing, fantasy art, fantasy, fairy, painting workshops, still life, floral, flowers, sixth sense, home decor, art prints, giclee prints, posters, intuition, psychic development workshops, intuition, intuitive, intuition workshops, psychic classes, intuition classes, develop psychic ability, develop intuition, astronomy art, outer space, planets, full moon, kitchen art, wall art, wall decor, home decor, psychic readings, intuition tutorials, spiritual art, healing art, guardian angels, shaman, abstract art, greeting cards, fine art prints, painting blog, art blog, saratoga springs, new york, upstate new york latham ny, glens falls, albany, ny, clifton park, Etsy, youtube, you tube,