Your Aura Made Visible

Radiant Colorful Aura Paintings by Marina Petro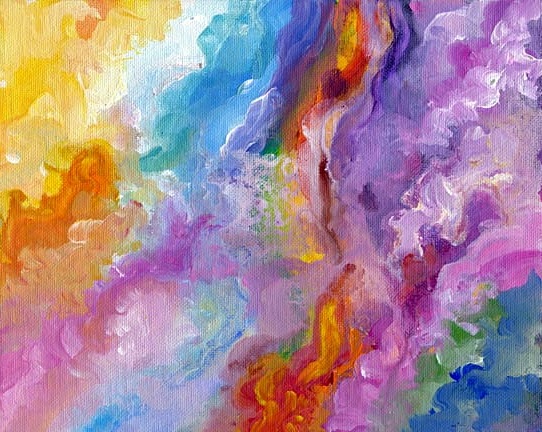 For as long as I can remember I've had the ability to sense color around people. It is how I discovered my intuitive abilities and began my professional life as an intuitive consultant over 35 years ago.You can read about the experience here. I'm certain you will find it interesting.
http://www.marinapetro.com/discovery-of-psychic-intuitive-gifts.html
Your aura, or energy field is like a map of what you are experiencing. It contains the past, present, unfolding future, mental, emotional, spiritual qualities, the subconscious and more. I have indicated where these elements generally appear in the first painting below.

I was inspired to begin painting auras and offering them to individuals interested in a visual representation of their aura/energy field...as I perceive it.
You will receive a colorful painting on canvas panel or stretched canvas (in any size you'd like) illustrating the colors I perceive emanating from and around you and visible in your energy field at that time. Your painting will be shipped via USPS Priority Mail. I will also provide a sheet illustrating the general meanings of what the colors represent and a printed reproduction of your aura painting on paper indicating where the past, present, future, subconscious and past life energies appear.
What I require to begin your one-of-a-kind painting is a fairly recent photo of you (no sunglasses please) emailed to me at [email protected]. I will email you a Paypal invoice for payment. You do not need a Paypal account. Please email me or call me at 518-583-7280 to arrange for your aura painting.
8 x 10 inch Aura Painting on stretched canvas or panel: $350 + shipping.
12 x 12 inch Aura Painting on 1.5 inch deep stretched canvas: $425 + shipping.
Your aura can be painted on on any size. Contact me for pricing.
REVIEW FROM A PERSON who purchased Aura Paintings for family Christmas gifts:
"Everyone LOVED their paintings!!!!! They loved how personal and unique they were. I am sure they will spend hours reviewing them, while looking forward to the multitude of conversations they will evoke.
Working with you has been a pleasure!
I will definitely recommend you to friends and I am sure you will hear from me again.
See below for more examples of aura paintings