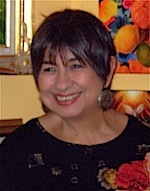 Marina Petro
☀️ Make an appointment with Marina ☀️

Consultation with a skilled intuitive can be a valuable resource for insight, clarity, healing, getting to the source of problematic areas, and expediting creative solutions.

How I work...
I function as a catalyst to help my clients restore harmony to their lives. The value of my service is the ability to 'see' into your life and provide clear and useful information and insight to the concerns and questions you present.
My gift enables me to 'see' into the past, present and the unfolding future simultaneously. This makes it possible to predict the most likely consequences of what is presently in motion in your life. I can then provide you with new strategies, options, and guidance, anchored in an expedient, spiritually correct, and positive direction. By spiritually correct, I mean: guidance that is anchored in integrity and considers the highest good for all concerned.
I sometimes view my work as 'timely intervention.' A Chinese proverb states:
"If we do not change our direction, we are liable to end up where we are headed."
Every situation and relationship you encounter has more than one possible outcome. How you choose to interact and respond will influence the outcome.
Expertise...
I am considered a full range intuitive. My abilities embrace the complete range of psychic/intuitive receptivity. This includes: clairvoyance, clairaudience and clairsentience. These natural talents, coupled with a highly developed capacity to focus my attention, enables me to explore, in depth, just about any life situation or topic that a person presents.
Clients typically consult me for:

Insight Into Relationships
Decisions being Contemplated
Insight Into Oneself
Health Concerns & Directives
Spiritual Directives

Business & Career
Future Possibilities
Concerns with Family & Children
Creative Potentials and Gifts
Past Lives

Fee: $175/one-hour session

In Person and Telephone sessions available.


Telephone Sessions
I require a photo of you and payment of $175 prior to your appointment.

I accept personal checks, Money Orders, PayPal, and most credit cards.

To expedite your consultation you may send your photo as an email attachment (Be sure to include your telephone number) and remit payment via PayPal at the Paypal link/button above. Photos are only required for telephone sessions. Please-no photos with sunglasses.

To make an appointment or for more information...
Phone me at: 518-583-7280
EMAIL ME
and provide your phone number and best times to reach you.
Mail: Marina Petro, P.O. Box 159, Saratoga Springs, NY 12866