Psychic Wants Artists To Trust Their Intuition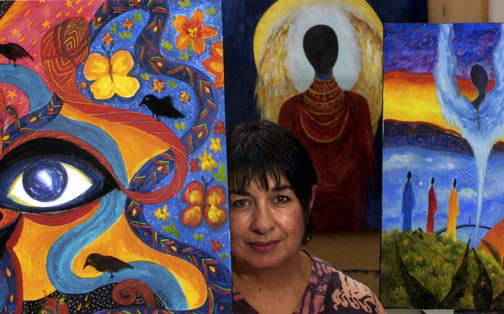 By JOSEPH DALTON , Staff writer

Stillness. Silence. Focused attention. Receptivity. According to Marina Petro, these are the keys to her two livelihoods -- painter and psychic.

After a 30-year career as a psychic counselor and nearly as many years working with oils and watercolors, Petro is now offering weekend workshops designed to help artists and others find inspiration and unlock greater creativity.
Her workshop, "Master Your Intuition," will be offered twice next month at the Saratoga County Arts Council in Saratoga Springs. It includes practical exercises in attaining the quiet focus through which both intuition and art are born.

"Intuition will always bring you to a place of greater evolution in any area -- art, music, writing, business, whatever -- when you tap into it and you're open to what's new and fresh and unknown. It all builds from there," says Petro.
Eva Dolan, the arts council's education coordinator, sees a class in intuition as a natural fit with workshops on developing photographs, weaving, silversmithing and drawing with pastels.

"Artists, along with having learned a technique, enter a certain place that's like a zone, working and operating on a different plane," says Dolan. "Some artists tiptoe into talking about that place where they work, but many people experience it, and it's a coveted place to find in all the arts."

Troy sculptor Larry Kagan thinks intuition just comes with time. "When you're dealing with art in a studio environment, you're learning to trust your artistic decisions," says Kagan, who has taught at Rensselaer Polytechnic Institute for 30 years. "People used to talk about how long it takes before you forget what they taught you in grad school and you start being an artist."

A special talent: In a recent discussion at her home near Saratoga Lake, Petro, 62, laughed at the irony of her becoming a teacher: She dropped out of school at age 16. But she was even younger when her abilities began to reveal themselves, she said."Ever since I was a child, when I look at the written word I see colors emanating from every letter. ... If I hear a person's name, I get an instant flash of color. Color is part of my language," she said, adding that it took many years until she realized such abilities were not at all typical.

Living in New York City during the early 1970s, Petro became associated with the nascent New Age movement. At a fair, she decided to make portraits based on the colors she saw around people who would sit for five-minute sessions.
"I set up my little canvas pad and my acrylic paints and the first person came and sat down," recalls Petro. "As I was painting, the colors didn't actually speak to me, but information was emanating from the pattern of colors and from the color itself. I was sensing what was going on with (the subjects) emotionally and seeing different situations in their lives and sensing information."

Petro felt compelled to share the information with the subjects -- who she said confirmed its accuracy -- and her career as a psychic was born. Within a couple of years, she found the confidence to put down the acrylic paints, and has offered psychic sessions ever since -- with no tools or devices, just silence and concentration.
Petro currently sees six to eight clients per week for individual, hour long sessions which cost $150. "My intention is to give whoever's there something of value, something that's going to help improve their existence, something that will help to alleviate their suffering," she says. "I don't allow people to come often -- I'm not a counselor or therapist."

Nevertheless, Petro has many clients who return, often on an annual or semi-annual basis. Among them is Bob Wolf, the host of "Wakin' Up with the Wolf," the morning radio show on WPYX (106.5 FM).
"What she has said for me has rung very true ... who I am and where I'm headed and what I need to do to continue to go there," says Wolf, who describes Petro as "very sincere and very intense." "I've always been connected to psychics and mediums and the paranormal," he says. "I've also been selective. You're not going to find me at a gypsy booth."

Making art intuitively: Painting is occupying an increasing amount of Petro's time and energy. She's in the midst of adding an art studio onto her home, which also houses an office where she sees clients. And she's captivated by a new series of works, titled "The Zone."

Petro approaches a canvas with the same openness as she begins a psychic session.
"I just start to paint and let it develop, and if it begins to look like a dragon, then I'll do something more to make it look like a dragon, but I usually just begin to paint and things begin to form," she says.

Dreamy depictions of dragons, angels and doves have characterized her work for years. "I challenge any therapist to analyze them," says the artist, who sells the originals, as well as reproductions on posters and notecards.
But she's hoarding "The Zone" series, which numbers 18 pieces so far. In sharp contrast to her past works, they are characterized by a density of shapes and forms in vivid, vaguely Latin colors. "I don't want to sell these, because my sense is they're telling some kind of story, and I don't know what the story is yet. I need it to unfold," she says.

Petro cautions that intuition can often lead to the kind of radical shifts in style and approach that she has experienced.
"Your intuition will always bring you to what you have not experienced before, to what's new," she says. "It's never old stuff. It wouldn't be intuition if it was. You'd already know it."
9/26, 2004